Legacy 7 Year / 250K Warranty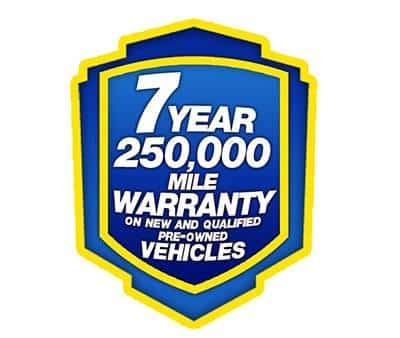 Legacy Toyota provides a complimentary 7-year/Quarter Million (250,000) mile warranty on all new Toyotas and select used vehicles that it sells. This warranty is a limited powertrain warranty that covers select parts of the engine, transmission, front wheel drive and rear wheel drive of the vehicle. This limited warranty covers the customer named on the warranty agreement for seven (7) years or 250,000 miles whichever comes first. The warranty is not transferable.
This limited powertrain warranty is provided to each customer as part of the purchase of a qualified vehicle – there is no additional charge. However, IN ORDER FOR THIS LIMITED WARRANTY TO REMAIN VALID, THE CUSTOMER MUST PERFORM ALL MAINTENANCE AS OUTLINED IN THE OWNER'S MANUAL WITH LEGACY TOYOTA OR A REPAIR FACILITY THAT HAS BEEN PRE-AUTHORIZED BY THE ADMINISTRATOR.
For more detailed information on the terms and conditions of this limited powertrain warranty, please click here.